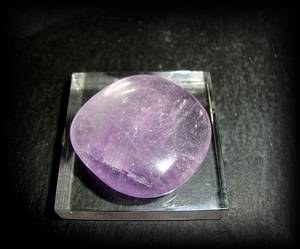 AMETHYSTE PEBBLE POLISHED (20gr/3.3cm)
Reference PI-AME1-CH
AMETHYST POLISHED
Size: 3.3 cm (approximately)
Weight: 20 gr(approximately)
Chakra: 7th (3rd Eye)
Chemical properties : SIO2 +IRON +MANGANESE
The iron and manganese are the color purple.
purple has the highest frequency in the difraction of light.
Pierre very spiritual, gives serenity.
TIPS: 1 put in each hand and ponder ... 3 sensations you feel in your hand: tingling, warmth and sweating to finish.
Or ask the stone on your forehead lying (3rd eye) and ponder ...

after hundreds of tests, tension drain and headaches go ...