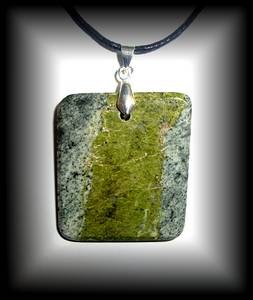 PISTACHITE EPIDOTE PENDANT 9(20 gr/3.8 cm)
Reference PEN-PIST9-PAT
PISTACHITE EPIDOTE PENDANT 9
Beautiful mineralization Ruitor Massif in Savoie, discovery of 18 May 2015 (photo attached). Pistachite epidote-quartz lode in, with small crystals of garnet ... RARE !!!!!.
Pistachite-green epidote 4 .Excellent for chakra (energy field of the heart, healing, harmony, balance)
Carved into my studio.
the second picture shows the massive in which was found that rock ... Point of Invernet.