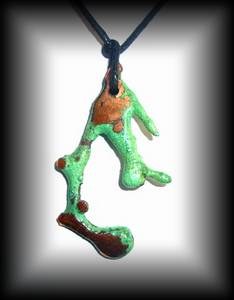 CHRYSOCOPPER PENDANT 6 ( 15 gr/5.3 cm)
Reference PEN-CUIVROCOLLE 6 -PAT
CHRYSOCOPPER PENDANT 6
Size: 5.3 cm ( approximately )

Weight:15 gr (approximately)
Chakra : 3 rd (Naval)

Chemical properties : COPPER

One of the most beautiful stones that I cut in my studio! shades of brass extraordinary ...
Discovery World Fall 2008!
to Magagascar is the first time we discovered this wonderful combination of native copper with  the chrysocolla .
You are the first to discover this rock!
3 days of approach 4x4 to arrive at the site of operation!