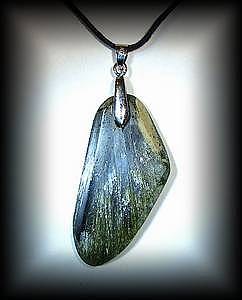 EPIDOTE CRYSTAL PENDANT6(21 gr/5 cm)
Reference PEN-EPICRIST6-PAT
CRYSTAL EPIDOTE PENDANT6
Size: 5 cm (approx)
Weight: 21 grams (approx.)
Chakra: 4th (Heart)
Chemical Properties: Ca2 (Al, Fe) 3 Si3O12 (OH)
Pendant CRYSTAL EPIDOTE.
Rare and beautiful crystal for the 4th chakra (energy field of the heart, calming realignment band).
"Going green" popular phrase to "recharge" is well suited to this pierre.L epidote brings patience
  and helps to make the difference between empathy and compassion. This is the stone
  individuation. It can actually know what we love, which is
  good for you, to get rid of family history, creating its own
history.