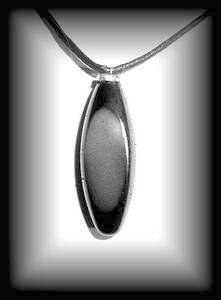 CARVED MAGNETIC MAGNETITE PENDANT ( 15 gr/ 4 cm)
Reference PEN-MAGNETITE TAILLEE-PAT
CARVED MAGNETIC MAGNETITE PENDANT
Size: 4 cm ( approximately )
Weight: 15 gr (approximately)
Chakra : 1 st (root)
Chemical properties : iron magnetic
Magnetite is an iron oxide of a metallic black. In contrast to hematite, magnetite is.
Cut in my studio from a roller magnetic magnetite from usa
2 points facétées circulate the energy up and down with a phenomenon of bi-polarization.
Many people place on this rock of virtues, especially with this cut!
The magnetite is compensatory and communicative, which is an excellent protective stone.