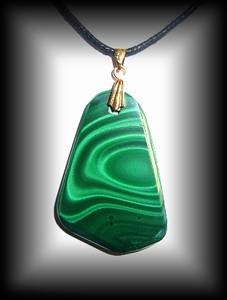 MALACHITE PENDANT ( 21 gr/4.4 cm)
Reference PEN-MALA-PAT
MALACHITE PENDANT
Size: 4.4 cm ( approximately )
Weight:21 gr (approximately)
Chakra : 4 th (Heart)
Chemical properties : COPPER CARBONATE
Malachite is a beautiful stone with shades of green amazing.
The malachite is a copper carbonate. It is a soft and porous stone.
Previously, Egypt, malachite was particularly appreciated. It was used to represent symbols, but also sprayed, as makeup for eyes and prophylaxis of eye infections.
Because of its color bright green, malachite is a pleasure for the eye. The spectacle of malachite in the exuberant Egyptian civilization had to be exciting. The Egyptians used extensively copper, malachite, lapis lazuli and turquoise: a combination of beautiful colors.

VERY GOOD STONE FOR HEART