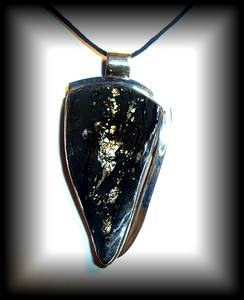 RADIOLITE PYRIT PENDANT 6(29 gr/5.6 cm)
Reference PEN-RADIOLYTE6-PAT
RADIOLYTE PYRIT PENDANT 6
Size: 5.6 cm (approx)
Weight: 29 gr (approx.)
Chakra: 1st (Root)
Chemical properties: SIO2 + sulfur + iron + graphite
Extraordinary beauty of this rare stone discovered in Switzerland there are only a few months!!
It is the most beautiful (in my personal opinion) with all my stones on this site ... cloud of yellow pyrite in a black background with some fine white quartz veins!