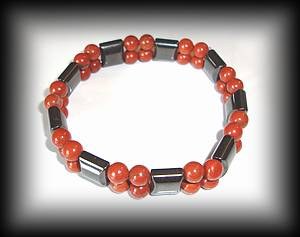 RED JASPER MAGNETIQUE BRACELET(35gr/elastic)
Reference BRAC-JASPE ROUGE MAG-PAT
RED JASPER MAGNETIQUE BRACELET
Size: elastic

Weight: approximately 35g

Chakra: 1st (between legs)

Chemical properties: SILICON+ IRON


IN THE REAL POWER!

MODEL "PHARE" CREATING CRYSTAL-PASSION, THE FRUIT OF A LONG DISCUSSION ON THE FIELD OF POWER WITH THE COMBINATION 1st CHAKRA of red jasper, and CYLINDER MAGNETIC.

For those who believe in the virtues of magnetic and lithotherapy, it is excellent, can not be more powerful!!

Very good first stone chakra (energy field between the legs) because of red jasper.

After many positive experiences (that is the principle of research, collect data from the experiments) in winter in the resort of Les Arcs with many customers, I saw that the stone has the ability to "reactivate"
heat to the extremities, especially hands and feet when we froid.Le bracelet is ideal for close fingers.

I have seen it also opens the first chakra (between legs) very clearly.