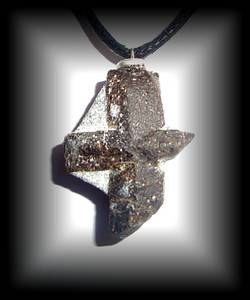 MAGNETIC STAUROTIDE PENDANT ( 12 gr/3 cm)
MAGNETIC STAUROTIDE PENDANT ( 12 gr/3 cm) is not presently in stock.
Please complete the form below to be notified when stock arrives:
Reference PEN-STAUMAGN-PAT
MAGNETIC STAUROTIDE PENDANT
Size: 3 cm ( approximately )
Weight: 12 gr (approximately)
Chakra : 1 st (Root)
Chemical properties : FeA14[OsiO4]2(OH)2
Very rich with IRON.
Stone whose macle (macle: association of two symmetrical crystals) form a cross, legend has it that fairies who filed where it is found. There are frequently staurotide form crystals druses shaped cross.
It is said that in Britain, there were formerly druses of staurotide in cultivated fields in being used as a cross chaplet. We interpreted this finding as a sign of fertility of the land, presages a good harvest, and protection of the place.
It will protect the place where it is located. We can say that it is a stone for good luck?.
It is a stone of fertile soil, plants appreciate enormously.