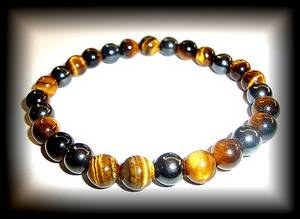 TIGER EYE MAGNETIQUE BRACELET2 ( 20 gr/elastic)
Reference BRAC-OEIL DE TIGRE MAGNETIQUE2-PAT
TIGER EYE MAGNETIQUE BRACELET 2
ENERGY IN THE TOP!
MODEL "PHARE" CREATING CRYSTAL-PASSION FRUIT OF THE LONG DISCUSSION ON THE FIELD OF ENERGY AND THE SOLAR PLEXUS CHAKRA third (field of energy SOLAR PLEXUS) WITH THE COMBINATION OF EYE OF TIGER OF MAGNETIC CYLINDER .
SILVER tabs, the resilient mounting multi-sizes.
For those who believe in the virtues of magnetic and lithotherapy, it is excellent, can not be more powerful!!
Very good stone third chakra (energy field of the solar plexus because of the tiger eye, tourmaline, and magnetic cylinders.