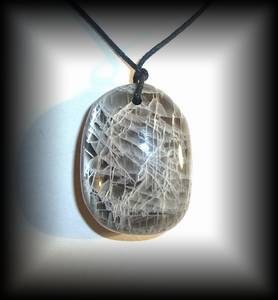 BLACK MOONSTONE PENDANT ( 35 gr/4 cm)
Reference PEN-PIERRELUNENOIR-PAT
BLACK MOONSTONE PENDANT
Size: 4 cm (about)
Weight: 35 grams (about)
Chakra: 5th (Throat)
Chemical properties: KAISi3O8
POTASSIUM+ ALUMINIUM +SILICON
 VERY RARE!
ONE OF THE MOST BEAUTIFUL COLLECTION .

It is the symbolic stone of innocence of childhood. She is virtuous, without malice and without artifice, spontaneous, naturally good.
Pierre of femininity, it activates the Yin energy. Men can use it because they need to agree with this Yin energy and with this part of femininity, sensitivity they possess. It is a stone that stimulates in humans the right side of the feminine spirit in compensation for the wrong side of the male mind. It is ideal to make up trends too materialistic, too down to earth. It brings meekness and tolerance of people perceived as hard and severe.
Very good stone fifth chakra (energy field of the throat, emotions, communication).