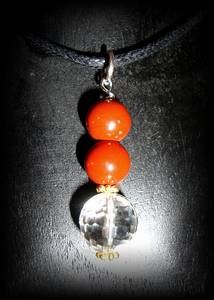 RED JASPER+FACETED QUARTZ PENDANT ( 10 gr/3cm)
Reference PEN-JASPQTZ-PAT
RED JASPER PENDANT
Size: 2.5 cm (approximately)
Weight: 10 gr (approximately)
Chakra:1st (Root)
Chemical properties : SIO2+ IRON


Stone very rich with IRON !



After many positive experiences (that is the principle of research, data accumulate experiences) in winter in the resort of Les Arcs with many customers, I observed that the stone was owned by "reactivate" heat at the ends, especially when the hands were froid.
I saw it also opens the 1st chakra (root) so clear.