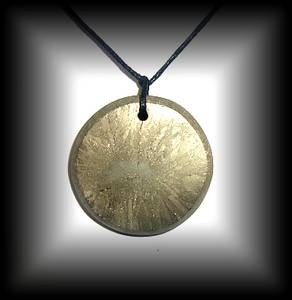 SUN PYRIT PENDANT(40 gr/4 cm)
SUN PYRIT PENDANT(40 gr/4 cm) is not presently in stock.
Please complete the form below to be notified when stock arrives:
Reference PEN-PYRITESOLEIL-PAT
SUN PYRIT PENDANT
Size: 4 cm(approx)
Weight: 40 g approx
Chakra: 3rd (Plexus)
Chemical properties: sulfur + iron 

Solar stone very, good for solar plexus (3rd field energy chakra). Carved in my studio in a large crystal.
GOLDEN PYRITE or fool's gold (iron pyrite) iron sulphide (cubic, tertiary). Solar stone par excellence: it recharges the plexus chakra quickly and powerfully. Effective in cases of fatigue and nervous exhaustion.
          It stimulates memory and the Cartesian mind: it is the stone of architects, mathematicians, teachers, students ...
         Good protective stone, or transmute all negative energy drains. Restores confidence, excellent for those of you who feel inferior.
         Pierre mirror that makes us understand that what bothers us in others is also in us. For a better understanding of oneself, creates awareness issues and repressed memories to deal with love and wisdom brings understanding to accept that whatever happens to us in life events: problems, suffering, meeting, conflict is ... opportunities to empower ourselves and transform ourselves positively. Stimulates the desire to find a solution to any conflict or problem. (Plexus Chakra)
         Gives assurance to men sexually.